Chillmax™️ | Portable Mini A/C
سعر عادي
$59.99
سعر البيع
$39.99
🌎 شحن مجاني في جميع أنحاء العالم يزيد عن 30 دولارًا أمريكيًا
---
Keep Cool This Summer Anywhere You Go!

Your Own Personal Air Conditioner

Simple & Easy to Use
Keep Cool This Summer Anywhere You Go!
This Mini Portable Air Conditioner is designed to be compact and powerful with the feel of arctic air effectively cooling the rooms of your choice in minutes, day or night.
This new device lets you quickly and easily cool any space. It is lightweight and small so it can be carried anywhere. Enjoy the powerful coolness in the office, bedroom, kitchen, garage, outdoors, and much more!
Whether you're at home or at the office, you'll find that it's convenient and easy to cool off with your own portable AC unit device in a matter of minutes.
Your Own Personal Air Conditioner
This chilling Portable Cooler combines the functions of a cooling fan, a humidifier, an air purifier, and a soothing, 7 color night light, all in one, portable, compact device. This handy air conditioning fan allows you to create your own personal comfort zone for you and your entire family!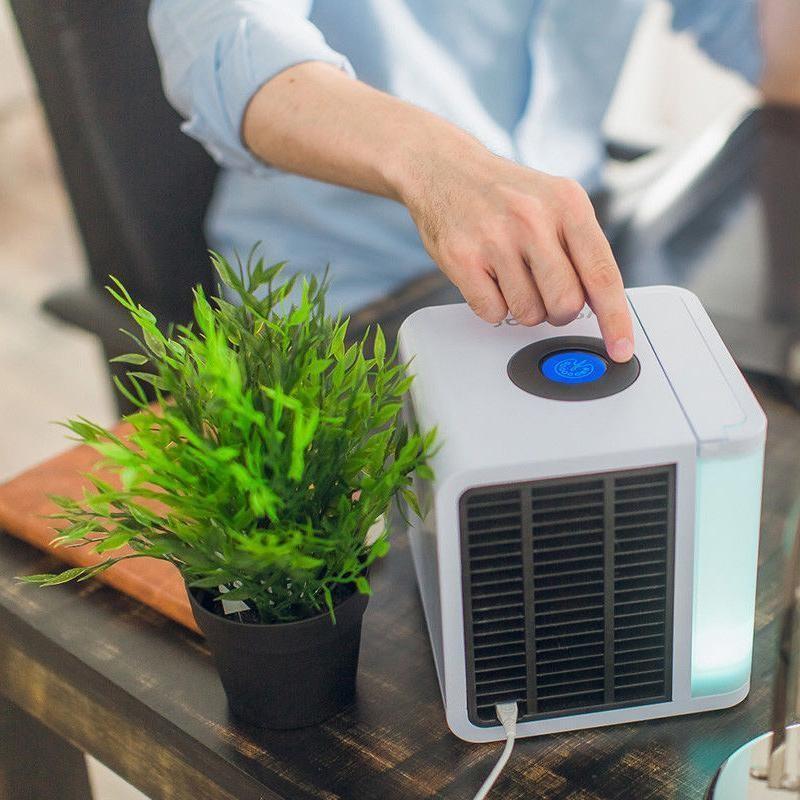 Our Portable Mini Air Conditioner is a high-tech device that can be used all year round for the whole family. It really makes a difference both on your health and your pocket!
This smart Air Conditioner consumes little energy and has an Advanced Proximity Sensor that automatically turns off the unit. This way you don't have to worry about high electricity bills and excessive energy consumption.

✅ EVAPORATIVE TECHNOLOGY WITH 3-IN-1 COOLING: The Portable Mini Air Conditioner MAX™ cools, humidifies and purifies using natural evaporative cooling to create a perfect microclimate. It filters out dust particles, which benefits your health.
✅ ENERGY & ECO-FRIENDLY: Now you can have fresh & filtered clean air, anytime anywhere! This device consumes less than 10W of electricity and automatically shuts off when it is out of water. It won't add to your electricity bill if plugged in.
✅ EASILY SETS UP IN SECONDS: Just add water and plug in to enjoy the cool powerful air. The Portable Mini Air Conditioner Max™ is very easy and convenient to carry and is perfect for your home and office. With built-in breathing LED lights, this portable AC has the ambience to put you and your kids right to sleep.
✅ Stylish & Portable: It's light-weight and portable which allows you to cool off anywhere and anytime of the day. It fits nicely on your desk, nightstand or coffee table – wherever you need it! It's great for dens, reading nooks, work, dorm rooms, offices, home offices, campers, workspaces, benches, basements, garages and more!